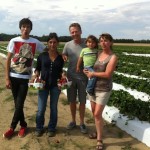 My son just loves fruit. But he's very picky, and finding great tasting berries in Western New York has always been a challenge. Coincidentally, several years back we met a couple vacationing in Florida who turned out to be the largest small berry plant growers in all of Canada, supplying a lion's share of the small berry plants to the US market as well.
So I asked: Why are your strawberries tasteless?" "It's because that's what you want" said Luc with his thick French Canadian accent. "Taste is variable number 7" he added. Completely perplexed, I begged him to elaborate. He went on to explain that taste took a back seat behind size, shape, color, shelf life, and I can't remember 5 and 6, but you get the point: Nobody really cared about taste, they just wanted to eat a beautiful fruit.
I couldn't believe it, so I conducted my own survey. It was true. Almost everyone I questioned responded that they would prefer a gigantic, red, glistening, tasteless strawberry to one that was less beautiful, slightly blemished, and delicious. "If you want to taste the best strawberries on the planet, come to our farm in Montreal" said Luc.
And so we did. Thousands of acres, all planted in perfectly straight, raised rows of sand stretching as far as the eye could see. (It's because the sand, unlike soil, is virtually disease free, we later learned). As promised, Luc led us to his prized strawberry collection, the 'Charlotte', gigantic red sugar balls that melted on your tongue. The Charlotte, a recent offspring of the Mara de Bois, had taken over first place as the best tasting berry ever. "If you want to see our research and indoor facility, you'll have to go to France," said Luc. "It's well worth your while".
And so we did. They had 20 acres under glass; a former tomato factory converted to strawberry production. We learned that they stopped producing strawberries outside over 10 years ago because the rain would blemish the fruit. They crossed thousands of plants every year looking for the best hybrids. They produced berries 11 months out of the year, only sold fresh fruit, and had zero waste.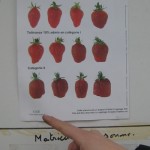 At the end of our tour, Jacques, our guide, showed us a chart of strawberries with different sizes and shapes they used to evaluate the fruit. Remarkably, those considered the best were not the largest and most bulbous, but small and slender, highlighting the difference between the European and American pallets. We inquired about organic production, and found that Europe, unlike the United States, does not recognize soilless organic production. That is to say that in order to qualify as organic in Europe, the produce must be grown in soil.
Our continuing search for the perfect tasting berry led us last year to experiment with growing alpine berries. Almost unknown in the US, these berries are much smaller in size and white in color. The taste is remarkable, some of them resembling pineapples. We of course are growing them organically, in coir bags we could only find in England. These bags are completely recyclable and sustainable, being composed of shredded coconuts. Ask about our organic alpine berries at Paul's Organic Farm and Koi Fishery this summer, you won't be disappointed.
At Paul's Organic Farm, You Can: