Buffalo & Erie County Botanical Gardens will finally unveil their two-year renovation of greenhouses 2 & 3 this Saturday to the public. The renovations included general mechanical and structural refurbishment, glass replacement and reconstruction of the waterfalls and koi pond.
The Botanical Gardens Society installed two new exhibits in the greenhouses: the Aquatic Garden and the Asian Rainforest, which includes a tea house, a moon gate, orchids, bamboo, exotic water plants and much more.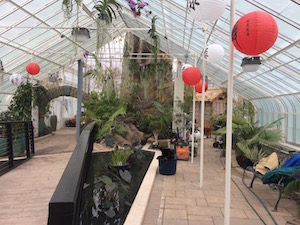 Paul's Organic Farm gladly donated the 20 gorgeous Japanese koi, all of which will soon happily occupy the refurbished pond. This video shows the release of the pond's first 2 inhabitants:
The opening party starts at 10:00 am on Saturday and admission is free. This link will take you to the Botanical Garden site for more information:
http://www.buffalogardens.com/collections/events/products/exhibit-opening-party
Hope to see you there!
Paul