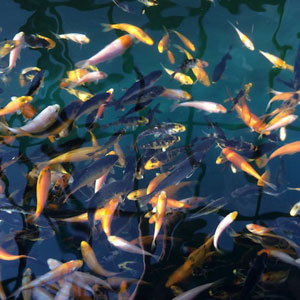 Built into the floor of our greenhouse are two 4,000-gallon aquariums used to grow second-generation select Japanese koi fish, the effluent of which we use to organically fertilize the farm. The aquariums are capable of handling up to a half pound of fish per gallon for a total of 4,000 pounds of fish.
This fish waste is filtered out of the water and stored in underground septic tanks, also located beneath the greenhouse floor, where it is subsequently sent, via the irrigation system, to every tree, vine and plant on the property.
The aquariums were inoculated with two thousand second-generation select Japanese koi fry in the summer of 2014, and have grown rather quickly under optimal conditions.
In order not to exceed our capacity, we will be selling some of our select koi fish periodically. Samples of our Koi fish are pictured below. Prices vary on size, amount, and variety. Please contact us if you are interested in purchasing some of our koi. These fish are extremely healthy and beautiful. Koi fish for sale.
At Paul's Organic Farm, You Can: