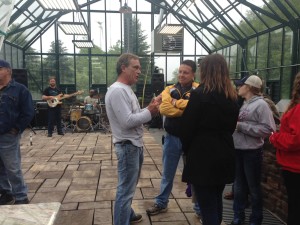 In spite of pouring rain, guests at our June 27 grand opening stayed warm and dry in our 1,500-square-foot greenhouse and enjoyed live music by the Tommy Z Band, healthy food, tours, a fish-feeding demonstration and kids' activities.
Guests started arriving early–at 1 pm–and stayed until 6 pm. And some of those who missed the Saturday opening showed up for tours the next day!
Kids enjoyed getting balloon animals, temporary tattoos and their faces painted.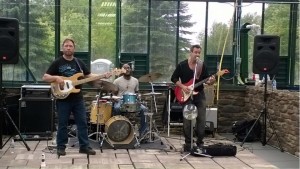 Guests asked a number of questions: How is the fish waste filtered and transported to the fruit growing on the farm? How much does the wind turbine produce? Does the wind power go directly to the greenhouse or to the utility? What makes the farm self-sustaining? Can guests use the picnic tables on the farm?
This Channel 4 story answers some of these questions: Local Aquaponic Farm Up and Running.
The East Aurora Bee also did a nice piece about the grand opening (although this online version includes the wrong photos, while the newspaper version includes the right photos):
Self-Sustaining Farm To Hold Grand Opening
Thanks to everyone who braved the bad weather to visit. We enjoyed seeing everyone!
Do you have questions about the farm or do you want to visit? Be sure to email us at Paul@paulsorganicfarm.com or call (786) 348-8600!