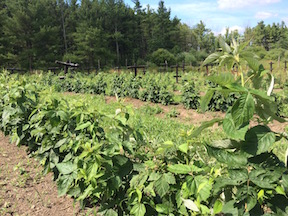 WE ARE PICKED OUT FOR THE WEEKEND!
We want to thank everyone that signed up for ripening alerts, and hope you found you're first alert helpful. Our strawberry season was somewhat anemic this year, as it was our first with conventional strawberries, and the deer took an unexpected toll. (Trust me, next year we'll be better prepared with more plants and more fencing.)
The blueberry plants have performed magnificently, yielding up to 100 lbs/day of big fat juicy berries, a real testament to fertigation in this dry weather. We were picked out the last 2 weekends by late Saturday, but will have availability with different cultivars stretching into mid-September.
The raspberries are looking stellar, but we're cultivating mostly fall varieties which won't be ready for at least a couple more weeks. We'll send out an alert when they're ripening up.
We do still have some koi fish available for sale, and are happy to give tours. Hope to see you here!
Paul